EIA21 considers the Quality and Internationalization objectives to be strategically fundamental, and assumes them as non-negligible objectives of contributing value together with safety and environmental objectives, key to the operation of the continuous production industrial sectors.
CERTIFICATIONS
EIA21 has Quality Certified Systems, according to ISO 9001:2015, and Environmental Systems, according to ISO 14001:2015 and ISO 45001:2018, which replaces OHSAS 18001, which incorporates an Occupational Health and Safety Management System.
EIA21 assumes responsibility for the Projects with the Objective of Continuous Improvement as an axis of its Activity and Policy, which has allowed it to achieve a sustainable implementation in different industrial sectors.

EIA21 is an associate member of the Basque Energy Cluster.
EIA21 is registered in the RePro Supplier Registry.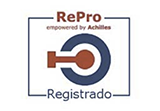 ---